We carry a variety of Pruning Shears -- from Novice Grade European Style Pruners to Professional Pruners favored by professional nurserymen and landscapers. Many are suitable for harvesting and thinning fruit, flowers, grapes, etc., as well as for Bonsai.

#120 Professional Thinning / Pruning Shears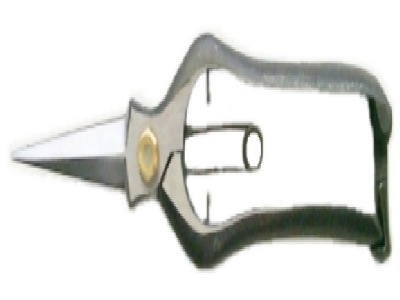 This professional-quality thinning shear is drop forged with triangulated high carbon laminated steel blades which hold up exceptionally well to extended harvesting and thinning of fruit and flowers. Pivot has heavy duty adjusting nut. A convenient metal clip latches with a single-handed action. Finished in black gun metal with polished blades. 2 1/4" blade, 8" overall

#122 Me-Kiri Thinning / Pruning Shears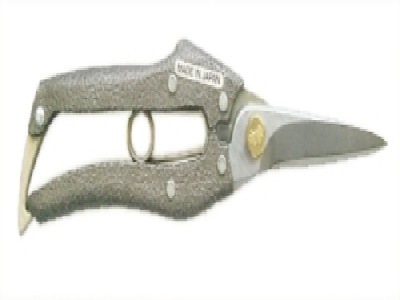 This intermediate quality thinning shear is drop forged with high-carbon steel. Similar to our #120 shear, but with conventional scissor-type blades, at a lower cost. Finished in black gun metal with polished blades and leather clip. 2" blade, 7 1/2" overall

#131 Light Duty Thinning / Pruning Shear


This, our least expensive shear, is designed especially for grape thinning but works well general floral and bonsai. Rounded tips allow them to be readily pocketed. 2" blade, 7 1/2" overall.

#133 MEDIUM DUTY THINNING SHEARS


This shear is a heavier duty version of our #131 Shear, from the weight of the blades to the red handles that are riveted, rather than welded. In Japanese blister pak. 2" blades, 7 1/2" overall length.

#B3500 Professional Heavy Duty Thinning Shear


This heavy duty thinning shear is constructed with high carbon steel and precision ground blades. The handles are double-riveted for strength with a heavy duty wishbone spring for precision control.
2" Carbon Steel Blades, 7 1/2" (190.5mm) overall

#136 Novice Grade European Style Pruner


This is a good quality European Style Pruner at an economy price. Strong but light weight aluminum body with handles that are red-vinyl coated for comfort. Tempered cutlery steel blades are easily replaceable. In English blister pack. 2" blade, 8" overall.
136B Replacement Blade

#141 & #142 Professional By-Pass Pruners


These Professional quality shears are made in Japan by Kamaki. Both blades are single piece SK-5 steel construction, hard chrome plated, with the cutting blade hollow-ground to reduce binding and gumming. The red plastic handles are die-cast aluminum for exceptional comfort, with non-slip plastic applied to the upper handle. Delrin clip latch for single-hand locking, locking castle nut on the pivot for superior blade control and plastic stops cushion closings.
#141 - Small - 7" Overall, 1 3/4" blade accepts 3/4" diam. stock #141B - Replacement Blade
#142 - Standard - 8" Overall, 2" blade accepts 7/8" diam. stock #142B - Replacement Blade

#143 Anvil Pruner


Our Anvil pruning shear is by Saboten, a quality Japanese manufacturer. The entire blade is high carbon cutlery steel and coated with Teflon-S® for easy cleaning, rust resistance, and gum-free cutting. Additional features include a Delrin locking latch, a patented oil less pivot that reduces friction and cutting effort, and a stainless steel body with a non-slip plastic coating over the handles. Accepts 3/4" stock. In English blister pack. 1 3/4" blade, 8" overall.

#145 SABOTEN THINNING SHEARS


Heavy gauge, high carbon steel blades with Du Pont Teflon® coating minimize friction, provide smooth, clean cuts, and maintain exceptionally sharp edges with long life. The pivot has a Duracon® washer to provide unusually smooth operation, and eliminate the need for lubrication. A safety latch secures blades when not in use and chrome plating minimizes corrosion. Comfortable plastic handle with convenient hand strap.


Available in Pink (145P) or Yellow (145Y) 1 3/4" blade, 7 1/4" overall length.

#146 Saboten Professional By-Pass Pruner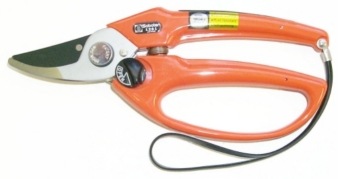 This shear is in Sabotens' Professional "Ne-Plus Ultra" series. Similar in construction to our #145 pruning shear, but of heavier gauge steel. The cutting blade is Teflon® coated, and the narrow by-pass blade is hard chrome plated. Comfortable orange plastic handles with non-slip rubber grip, safety latch, and hand strap.

#146B Replacement Blade.

#147 Saboten 1210 Thinning Shears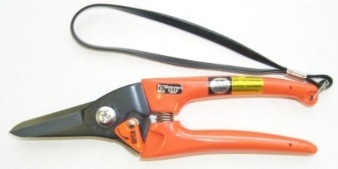 Lower cost, and slightly lighter weight version of our 145 Shears, with Teflon® coating, Duracon® Pivot washer, and safety latch. Comfortable orange plastic handles with safety latch & hand strap. 1 3/4" blade, 7 1/4" overall

#GC678 Economy Light Duty Stainless-Steel Thinning Shear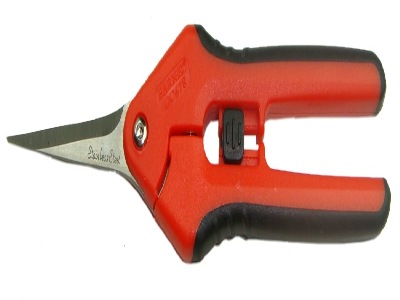 This, our least expensive shear, is designed especially for Fruit & Floral and general gardening. Lightweight - just 2.3 oz. Strong, durable ABS construction with Non-Slip Thermo-Plastic Rubber Grip, and a strong center bolt construction. Stainless-Steel, Straight Needle nose . In blister pak. 2" blade, 6 ½"(165mm) overall - This shear replaces JRL#3184