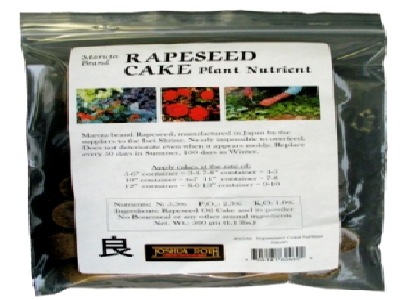 #6045 / #6046 RAPESEED CAKE NUTRIENT

Our Maruta brand Rapeseed is manufactured in Japan by the suppliers to the Isei Shrine. Nearly impossible to overfeed, as it is long lasting -- replace every 50 days in Summer, 100 days in Winter. Each cake is approx. 1" diameter by 5/6" thick, and consists of Rapeseed Oil Cake and its powder. No bonemeal or any other animal ingredients. Apply cakes at the rate of 3-4: 5" container, 4-5: 6" container, 5-7" 7" container, 6-8: 8" container. Does not deteriorate even when it appears moldy. Available in two sizes:
#6045: 8 kg (17.5 lb.) can
#6046: 500 gm (1.1 lb) bag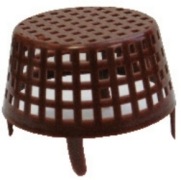 #6047 FERTILIZER CUPS

Use these inexpensive brown plastic cups to keep birds away from fertilizer cakes that are exposed above the soil when the Bonsai is outside. Package contains 10 cups.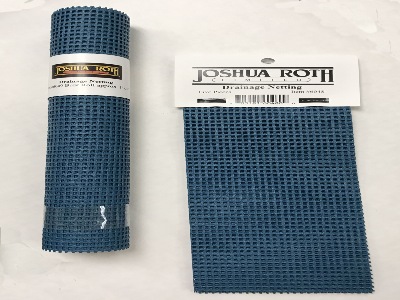 #6048/#6049 DRAINAGE NETTING

Our drainage netting is a fairly flexible, plasticized fabric that is impervious to most solvents, is mildew and fungus resistant, and provides good support and drainage.
Available in retail pack of five 3 1/2"x11"(approximate size) sheets with hanging header, or in a 1' x 5' (approximate size) bulk roll for Nursery or Bonsai club use.
#6048: 5-pack (each sheet approx size 3 1/2"x 11")
#6049: Bulk Roll (each roll approx size 1' x 5')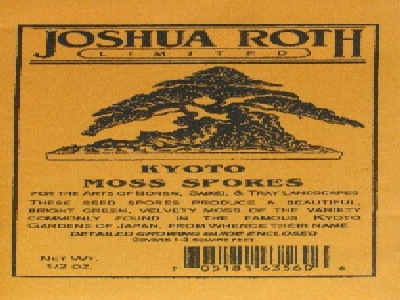 #6356 / #6357 MOSS SPORES

Our Moss Spores are of a variety commonly termed 'Kyoto' Moss, as is prevalent at the Kyoto Gardens in Japan. The beautiful, bright green velvet appearance is weed free, since it is greenhouse-grown in sterilized soil. Shelf life is indefinite, as spores are packed in a zip-lock bag within the envelope. A detailed growing guide is included. 1/2 Ounce Net Wt.
Covers up to 3 square feet.
#6356 1/2 oz. Individual Packet 1/2 oz Net Wt.
#6357 1-Box of 25 1/2 oz packets 1 1/2 lbs Net Wt.