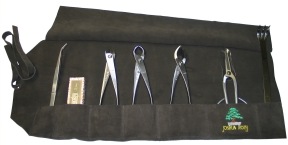 Available in either heavy duty Cordura Nylon or rich suede leather, both with 7 pockets specially sized for your Bonsai tools. A 5" wide inner flap prevents your tools from contacting each other when rolled up. Strong nylon stitching is used throughout. 10" X 24" overall. Both the Nylon and the Leather Tool Rolls features a colored embroidery design. See illustration above.

#3005 Nylon Toll Roll - Made of 1,000 denier, black Cordura nylon, a super tough, scuff resistant, water repellent material, designed for heavy duty outdoor use. Rot resistant nylon beading on outside edges prevents fraying. The 24" strap is stitched to roll to hold tools securely.

#3006 Leather Tool Roll - This tool roll is constructed entirely with one of the better heavy weight split suede, garment grade leathers available. Dyed to a rich brown color with soft and supple suede finish on both sides. It will provide the ultimate in tool protection for the serious enthusiast. A 24" matching suede leather strap is riveted to roll to hold tools securely.