Our general purpose garden shears are exceptional for all floral and gardening tasks, including Bonsai. Their incredibly sharp, SAE 1060 high carbon-steel blades, are hardened and tempered for durability and strength. Blades have a sharp chamfer angle which minimizes binding. Designed to cut up to 1/2" branches quite readliy and strong pointed tips permit snipping in very tight spaces. An excellent shear for beginners in Bonsai. Now available with either our traditional bright red handles or with snow white handles. Handles are Soft Flex™ polyvinyl plasic which reduces blistering during long sessions of use.

The 130C has hard-chrome plating for rust resistance and easy clean-up. Great in humid areas such as greenhouses which makes it the best GardenCut™ for floral use. 2" blades, 8" overall.

Our GardenCut™ Shears are also an excellent choice for use in basket weaving, trimming foam & plastic materials, general kitchen use, trimming hot molten glass during glass blowing and handicrafts of all types.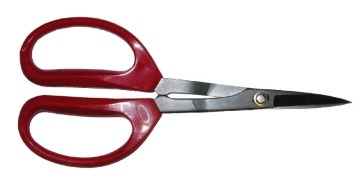 #130 Original Red Handle with carbon-steel blades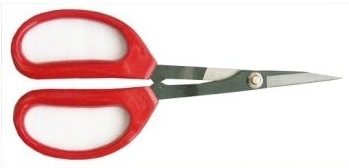 #130SS Red Handle with Stainless-Steel blades